Every one of us consumes Coca-Cola products. Such has been the expansion of their services across the globe. Coca-Cola is a multinational company and it takes pride in being the market leader in the beverage and refreshments category. For any company to succeed at the global level, it takes a lot of investment and hard work. None can succeed overnight even at the micro-level. The market is dynamic and changes drastically. One drastic change in the market has been the use of technology by companies.
In the 21st century, it has become almost impossible for anyone to survive without being a user of technology. There are many advancements in the field of technology that have taken it to a whole other level. The introduction of Artificial Intelligence, the Internet of Things (IoT), Big Data, Machine Learning, NLP, and other such tools has made everything easier. It has also fuelled the competition in the market.
So, in this blog, we will cover the story of the Coca-Cola company and how they have leveraged technology to stand at the top. We will discuss the role of machine learning and data analytics and AI in the success of Coca-Cola. To begin with, we will scratch some history of the beverage company and some interesting points about Coca-Cola.
About The Coca-Cola Company
The Coca-Cola Company is an American multinational beverage corporation that has its headquarters in Atlanta, Georgia. The company boasts of serving the people of more than 200 countries across the globe, with more than 500 different brands ranging from Coca-Cola to Zico Coconut Water, to Costa coffee.
Talking about the establishment of Coca-Cola, on 8 May 1886, Dr. John Pemberton served the world's first Coca-Cola at Jacobs' Pharmacy in Atlanta, Georgia. However, in 1889, Asa Griggs Candler, an American Business tycoon, bought the recipe for Coca-Cola and established The Coca-Cola company in 1892. Talking about the size of the company, it has more than 7 lakh employees across the company and bottling partners.
Coca-Cola has a long history of acquisitions. The top acquisitions are:
Coca-Cola acquired Minute Maid in 1960.

In 1993, Coca-Cola acquired the Indian Cola brand, Thumbs Up. In 1995, it went ahead to acquire the American soft drink brand, Barq's.

In 2001, Coca-Cola acquired the Odwalla brand of fruit juices, smoothies, and bars for $181 million. However, this year, in July 2020, it announced discontinuation with Odwalla stating that "it wants to kill zombie brands."

On 31 August 2018, Coca-Cola agreed to acquire Costa Coffee from Whitebrads for £3.9bn. However, the acquisition didn't last long and ended on 3 Jan 2019.
Many such acquisitions happen as they are all a part of any company's expansion policies.
"Our vision is to craft the brands and choice of drinks that people love, to refresh them in body & spirit. And done in ways that create a more sustainable business and better-shared future that makes a difference in people's lives, communities, and our planet.'

-The Coca-Cola Company
Recommended blog - AI in Tesla
So, this was a brief description of The Coca-Cola Company. Moving ahead with the blog we shall now look at the use of technology by Coca-Cola to stay ahead in the market.
How Coca-Cola uses Machine Learning?
---
Coca-Cola used ML to launch Cherry Sprite
---
As mentioned earlier, the market is dynamic and changes quickly. The food and beverage industry is no exception. Major shifts in these industries can be seen as consumers are moving towards healthier alternatives from legacy CPG brands. Coca-Cola is a massive name in this particular industry and so it has a responsibility as well as a need to drill-down its focus to the consumer level. Coca-Cola, incarnating on the opportunity, utilized machine learning to enhance its product delivery and placement along with personalized consumer experience.
Product Development : In a short term, Coca-Cola leverages machine learning heavily in its product development. One example that testifies the use of ML in product development is the launch of Cherry Spite. Coca-Cola had launched interactive soda fountain dispensaries in 2009. This allowed restaurants and retail guests to add the splash of their favorite drinks in Coca-Cola drinks.
Meanwhile, the company cleverly accumulated vast data of flavor combinations and levered machine learning to identify the most popular versions. Using the data retrieved, the company launched the product Cherry Sprite nationally. In this way, Coca-Cola managed to utilize Machine Learning in product development and make decisions based on individual preferences.
Better placement and personalization of products : In addition to product development, Coca-Cola is also harnessing ML to place its products better along with enhanced personalization. The company is doing so by upgrading consumer interaction with its vending machines. By analyzing the foot traffic, demands, purchasing behavior, and customer data, the vending machines promote appropriate products for that area and offer discounts related to that specific unit. In addition to these, the machine sets its 'mood' according to its location (e.g. it promotes more water if it's placed in a gym).
Better placement in mortar and retail : Coca-Cola is also using ML to place itself better in brick-and-mortar retail. Earlier, the company managed a costly, tedious, and very labor-intensive process for its store-level audits i.e. placement of its products on the shelf next to competitors and determine any out-of-stock items that needed to be replenished. Coca-Cola used ML to collect the images of the shelves taken via a mobile phone and it was able to maximize the number of corporate-level marketplace surveys up to three times. Earlier it could manage only two surveys in a year with the old tedious process. However, with ML coming into the picture they could conduct six such surveys.
So, this way The Coca-Cola company leveraged Machine Learning to keep up with the dynamically changing market. Product placement, enhanced personalized user experience, better placement of products, all aid in better yields.
Now, having seen the use of Machine Learning we will look at one more smart use of smart technology- data analytics by the company to enhance its service.
Data Analytics and AI in Coca-Cola
Being such a massive company, the amount of data collected by The Coca-Cola Company is also huge. It generates a substantial amount of data that includes sourcing, production, distribution, sales, and customer feedback. To manage such a large amount of data the company uses Big Data. Over the years, Coca-Cola has embraced Big Data to drive its business strategies. According to a Forbes article, Coca-Cola was one of the first globally recognized brands outside of the IT market to speak about Big Data. In 2012, its Chief Big Data Officer said,
"Social media, mobile applications, cloud computing, and e-commerce are combining to give companies like Coca-Cola an unprecedented toolset to change the way they approach IT. Behind all this, big data gives you the intelligence to cap it all off."

-Esat Sezer
Let us take a look at how the company uses Big Data and AI.
Coca-Cola has extensively invested in research and development, especially in Artificial Intelligence, to better manage and use the data it collects from its consumers across the globe.
Recommended blog - AI in Big Data Analytics
Since Coca-Cola serves people from more than 200 countries, the purchase behavior varies significantly from region to region. So, Coca-Cola leverages Big Data Analytics to identify the patterns in the purchases, what suits the people of a specific region, flavors preferred, and other such crucial insights. It then launches its products accordingly and facilitates its user with an enhanced personalized experience.
For instance, in 2008, Coca-Cola launched fountain drink machines which allowed the consumers to mix different flavors and make a drink of their choice. They could do all this using their smartphones and could even save the choice for future use. This practice gave the company a lot of insights which it used to launch a new product.
The Use of AI in target advertising
---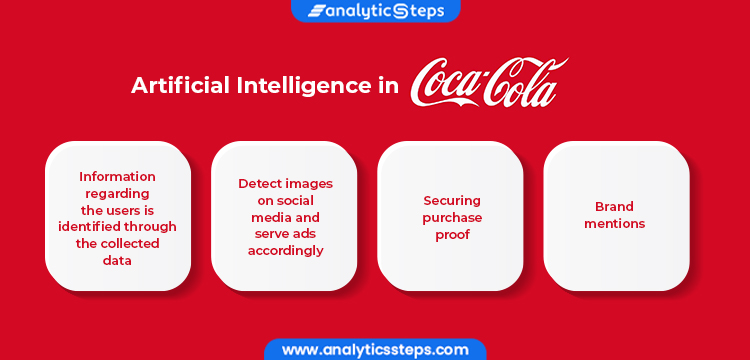 Coca-Cola uses AI in target advertising
---
Information regarding the users is identified through the collected data: Based on the data collected they identify the users and all crucial information related to them like who are their customers, where they live, what prompts them to talk about the brand. Access to this information allows the company to personalize the approach. For example, in 2015, Coca-Cola was able to identify that their products were mentioned once every two seconds.
Recommended blog - Tiny AI
Detect images on social media and serve ads accordingly: The company can further leverage AI to identify pictures of its products uploaded on social media platforms and then serve the people ads based on those images. This increases the effectiveness of targeted advertising up to four times compared to other methods.
Securing purchase proof: AI is also adopted by the company for securing purchase proof in case of the platform's reward and loyalty schemes.

Previously the customers were required to enter a 14 digit product code that was printed on the cap of the bottles, in a conventional manner, which led to low uptake owing to the hassle. For tempting more people into doing this, Coca-Cola introduced a facial recognition technology enabling the purchases to be verified by merely a single smartphone picture.
Watch this video to understand the use of Big Data by Coca-Cola.
How Coca-Cola leverages Big Data
---
Conclusion
So, these were some of the uses of technology by The Coca-Cola Company to serve people better and stay ahead in the market. Coca-Cola is a well-known brand and we consume its products almost every day. The company is also aware of its popularity so it won't despair a chance to further strengthen its position in these times when the competition is so fierce.
We looked at some examples to understand how Coca-Cola has used, is using, and will use technology like AI, Machine Learning, and Big Data Analytics. Technology has taken over all the traditional ways of doing things be it marketing by the companies or the consumption by customers. This use of technology will increase even further.
So, just keep yourselves updated with such technical trends and also stay with us so that we can bring out such interesting stories up to you.