What is a Business Analyst?
Business Analyst is a person who analyses, understands and ensures the requirements for the business growth by reforming its policies, internal process, and information system completely.
The business analyst makes positive changes by understanding the business problems, recommends the solution and increases the return on investment for projects. It will help to modify the processes, products, services, and software in order to achieve the company's goals.
"Business analyst is a kind of an overpass between the business-related problems and technology solutions."
---
Various business analysis techniques
---
Business analysis is the task full of ideas, knowledge, and information required to recognize business needs and solutions. Business solutions directly related to business requirements such as what are user requirements, attributes, utility and resources of requirements, etc. for all these business problems different business techniques come into existence.
Techniques of Business Analysis
To analyze business needs, goals or objectives suitable technique plays a vital role. There are many business analysis techniques used by the Business Analyst. We have described the eight most popular techniques below.
1. SWOT Analysis
S.W.O.T. stands for Strength, Weakness, Opportunities, and Threats. This is the most important technique used in business analysis. It is conducted by a group of people with different mindsets and perspectives in the company in order to access a changing environment and react accordingly.
It is kind of the business framework in which strengths and weaknesses are internal data factors whereas opportunities and threats are the external data factors.
Strength of the company can be classified as the actions that work well for different problems and confers the key advantages to the company. Some examples of strengths are the company name, company location, trusted employees, great reputation, customer support, brand name, product, etc.
Weakness of the company is the different activities or disadvantages which create problems for the growth or policies of the company. Examples of weaknesses are bad reputation, incomplete product, lazy employees, department rivalry, persistent negativity, office politics, etc.
---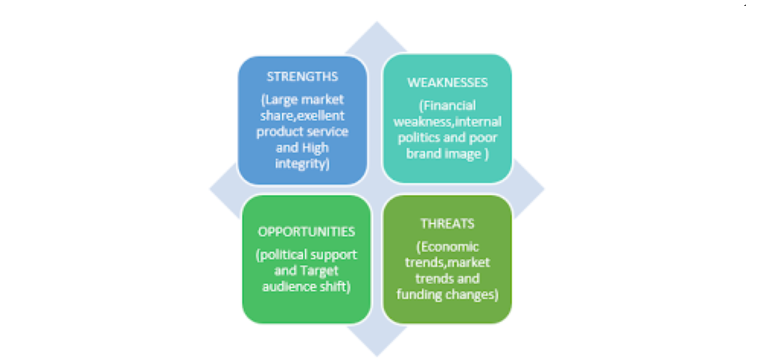 SWOT Analysis of an IT Company
---
Opportunities are external facts and figures which have the potential to provide an advantage or an edge above competitors. Any kind of advantage due to external facts is an opportunity.
Some examples of opportunities are investing in the startup at an early edge to gain more profit later. One of the classic examples of opportunity in Indian startup is that after demonetization many digital payment startups (an example of digital transformation) got millions of funding.
Threats are also an external fact or information that can create a disadvantage to the company. Some of the examples of threats are changes in market research and trends, new regulations, new technology such as AI and IoT implementation in touch screen mobile phones that were perhaps a threat to keypad phones, an example of cyberthreats.
2. MOST Analysis
M.O.S.T. stands for Mission, Objective, Strategy, and Tactics. MOST analysis is also a powerful technique to do business analysis. MOST analysis always works from the top. Business Analyst should ensure that it retains the focus towards goals which are most important for the organization.
It gives a better understanding of the organization's capabilities and vision (purpose) and to provide answers to the interrogation such as what does the organization wants to achieve in terms of mission and objectives, how these actions can be implemented in strategies and tactics.
Mission should be an organization's enduring process. Each department of the organization equally contributes to the mission statement. It clears an overall reason for being in business and what will be the outcomes to accomplish. The more clear the business is about its mission, the more likely it will succeed.
Objectives are the one step down after mission. These are defined as specific aims for each department to achieve its mission. Objectives should be smart and specific for decision making. They should also be measurable and realistic.
---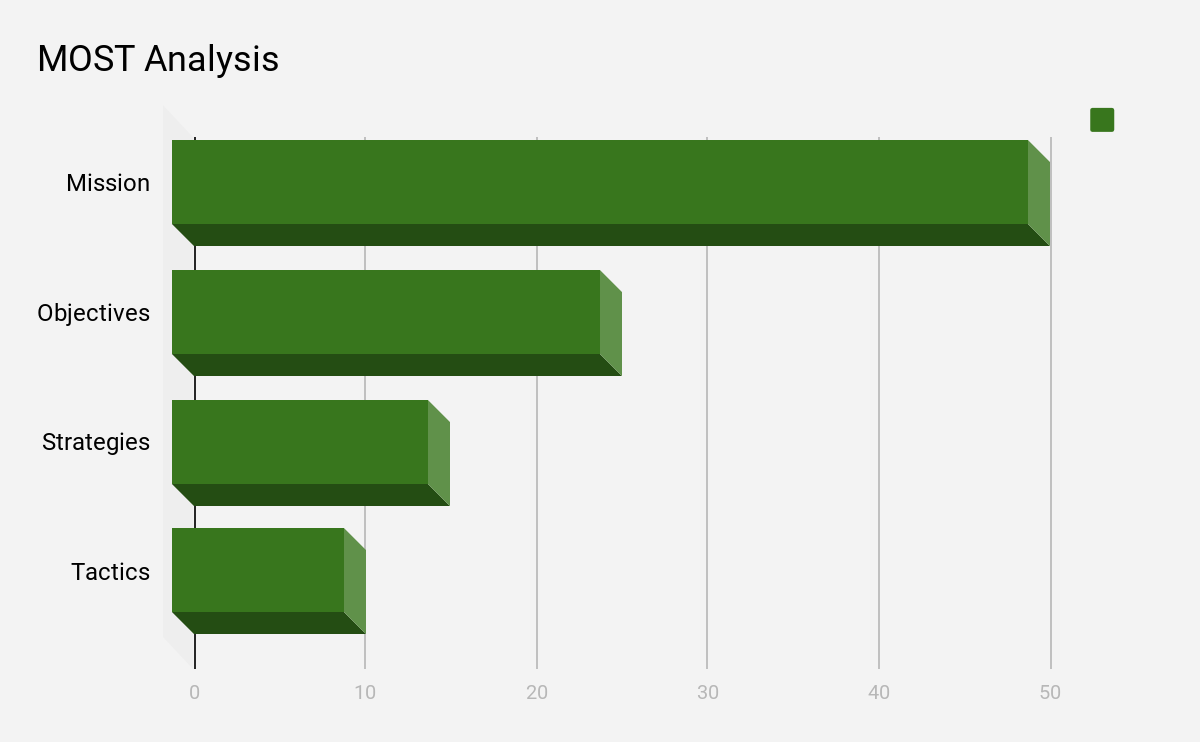 Importance of MOST analysis
---
Strategies are the actions that should be taken in order to accomplish organizational objectives. These are the long term approach to achieve objectives. There are many groups of sorts of actions to achieve at least one goal of objectives of the mission. Strategies are also considered as the safest way to move forward in the organization.
Tactics are designed to carry out strategies in the organization. They are formed in a simple manner so that they can be understood by every person in the organization who does not have an overview of MOST analysis. These are short term approach to complete strategies.
3. PESTLE Analysis
In any organization, there are many external macro-environmental factors that can affect its performance. PESTLE analysis is sometimes also referred to as the PEST analysis and has used in various business applications.
PESTLE stands for Political, Economical, Social, Technological, Legal and Environmental. These forces or factors can create opportunities or threats to any organization so it is a very powerful tool or technique of business analysis.
Political factors determine how a government's policies and regulation act influence an organization. It is also related to the government's intervention in the economy. All the factors that influence business by the government can be classified here such as tax policies, tariffs, law, trade control, import restrictions, etc.
Economical factors have a significant impact on how do organizations run their business and how profitable business is. Economic factors include economic growth, exchange rate, inflation rate and interest rate.
Social factors include health consciousness, population growth rate, age distribution, cultural trends etc. These factors help marketers to understand their customer's requirements.
---
PESTEL analysis
---
Technological factors include the rate of technology advancements, innovation, automation, research and development which might impact business growth.
Legal factors include the discrimination laws, copyright/patent laws, data privacy laws, health and insurance laws, etc. The organization must run within its legal boundaries.
Environmental factors include weather, climate change, air and water pollution, etc. These factors especially impact many industries such as tourism, farming, insurance, etc.
4. System Analysis
System analysis is a systematic problem-solving method for collecting and interpreting facts, looking system's weaknesses, identify business problems, or decomposition of the system into smaller parts. It is an approach to minimize the error of different issues.
System analysis is the process of studying the company's perspective, identifying its goals, creating a process together to make an efficient system. For instance, a problem can be solved in a few hours without analyzing a system completely but sometimes it creates many other irrelevant issues. So, the better you understand the system, chances are less for any problem to arise.
5. Business Model Analysis
The business model analysis helps us to understand the business of the company and clears the policies, market approaches, and techniques. It gives a better understanding of many things like revenue model, value offering to which customer's segment, cost involved in value offering, effects on the company if the business model changes.
In the Business model analysis, we also try to grasp the insight on the important factors such as cost of production, marketing, and management. With the complete study of design, production cost, marketing strategy, and effect on possible upcoming changes, A business analyst ensures the growth of company status and revenue.
6. Brainstorming
Brainstorming is a useful technique to generate diverse ideas, to resolve or find a solution for the complex problems and to analyze business properly.
It is defined as "a group problem-solving technique that involves the spontaneous contribution of ideas from all members of the group." In brainstorming, each idea of an individual person whether it is out of the box idea is encouraged.
Brainstorming done by one person only could be considered as independent brainstorming, some business analysts might advocate for this type of brainstorming because it would take less time to achieve a conclusion, but in the large organization, group brainstorming is practiced.
Brainstorming targets creative thinking about a problem in order to come up with a new set of ideas, approaches, and options. It is a group activity having a completely different purpose of generating solutions for the problems.
7. Mind Mapping
Mind Mapping is a very useful and effective business analysis technique that gives us a clear and visual understanding of different problems, ideas, thoughts, etc.
Structure of Mind Mapping is very similar to the structure of neurons in the brain (one of the prominent reasons why it is called so), It keeps expanding with the addition of new ideas and resources.
---
Mind mapping analysis techniques: Source
---
A Business Analyst's role is to investigate and evaluate problems obtained by clients or stakeholders that can be solved by using mind maps to get structured details of any ideas, thoughts, and information.
The mind mapping technique ensures that all the factors which are needed to analyze have been considered or not. There are several tools available to make mind maps online such as Freemind, Xmind, Mindmap, Lucidchart, Canva, etc.
8. Process Design
This is a crucial part of the business analysis where a Business Analyst identifies the organization's process designs and their useful and harmful attributes.
Process designs are essential to solve the problems and exploiting opportunities in order to monitor and measure the effectiveness of business to ensure consistent value delivery to consumers. Process designs can also be described as a future state of any business operations.
A Business process analyst analyzes the existing process design and does changes if required. The business analyst is responsible for understanding the wide business process improvement and maintain them.
Conclusion
There are many techniques available for business analysis. In this blog, the importance of business analysis along with different techniques discussed. The role of the Business Analyst not only limited to analyze the data available but also to enhance the business up to the next level. He chooses the appropriate technique according to business problems and takes necessary actions for improvement.
Business analysis is a great way to understand any business as it can give you a clear understanding of the business process, targeted customer segment, market, value system, future state, policies, capabilities, and competitors. Thank You! For more blogs in Analytics and new technologies do read Analytics Steps.